Mackerel school in Monterey harbor; city tech protect them from suffocation.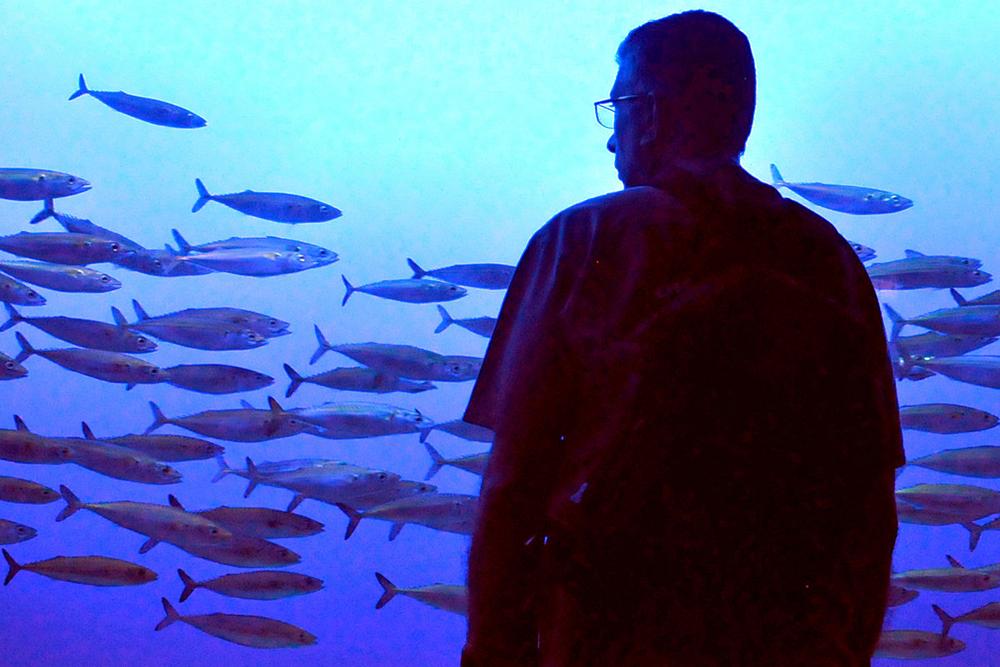 These Pacific mackerel are swimming inside a Monterey Bay Aquarium tank, unlike their wild kin now schooling in Monterey Harbor.   — Merve Girgin Yanar

Steve Scheiblauer keeps a photo in his office of a bunch of dead sardines. As framed desktop photos go, it's a bit macabre compared with the more standard child's school portrait. But in its own way, Scheiblauer's photo is feel-good, too.
It was October 1996, and Scheiblauer was less than a year into his job as Monterey harbormaster when thousands of sardine carcasses started floating up in the marina.
The walls of Fishermans Wharf, the commercial wharf and the harborfront connecting them form a three-sided enclosure, Scheiblauer explains. When fish school there, they become vulnerable because the tides don't bring much fresh oxygen.
"This is not really unusual for harbor structures," Scheiblauer says. "I basically knew what was happening and how to solve it, which was these aeration machines."
Scheiblauer convinced Monterey City Council to approve a system of 15 aerators, at a cost of about $100,000, which was installed in early 1997. Since then, he says, the aerators have helped keep visiting schools of fish (mostly sardines) alive.
Nearly 20 years since that sardine die-off, Monterey Harbor is again hosting a visiting school of fish. In an unusual twist, the school is about 80-percent mackerel, Scheiblauer says, and only 20-percent sardines.
Two days ago, he had the aerators turned on.
Here's the underwater GoPro video his employee, A.J. Young, recorded late yesterday afternoon. With the aerators blasting out fresh oxygen, it'll hopefully be a pleasant visit for the fish.
---
Read the original post: Monterey County Weekly